A fairly common question people ask is if you can bring coolers into Disney World? Such a simple question should be easy to answer but you won't find anything on the Disney World website.
I actually had to look myself when someone brought this to my attention. Sure enough, after looking over the guest services policies for every park, I did not come across a single mention of the word cooler. Kind of strange, especially since one of their recommendations is to bring plenty of drinking water.
The good news is that you can indeed bring small, soft-sided coolers into the theme parks. I recommend checking out Walmart to find one of the larger ones. I picked up this Coleman 16-Can Soft Cooler (pictured below) for $15 over our summer trip to Disney. It is compact enough to pass through security and still provides a decent amount of space for 160z. bottles.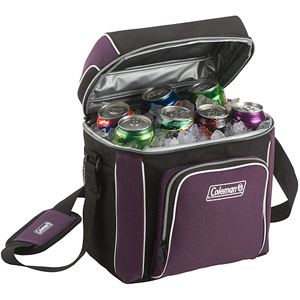 For all of you thinking about bringing in those large 38 or 54 quart plastic coolers – don't. These are not allowed into the parks. Basically you need to find something that will fit under a stroller or can be carried as a bag. Also keep in mind that all bags and coolers will be inspected at the gate for prohibited items like alcohol, etc.
Okay, so you have your approved cooler and it doesn't take long to figure out that the space inside is limited. What do you do? One simple strategy is to think outside of the traditional 12oz. cans and 16ox. bottles. Consider stocking it with the mini soda cans and bottled waters. They provide enough enough liquid to quench your thirst and with being on the go you probably won't need a full sized drink. Kid drinks have several great options like small juice pouches, Capri Suns, and individual milks.
Obviously the limited capacity of a soft side cooler means less ice to keep things cold. You can get cups of ice at the concessions stands but getting through the lines can be a real pain. My wife used those frozen gel packs, which seemed to last longer and prevent the inevitable water spills you get when pulling your cooler out from under the stroller. I've never tried this, but you could also pack a couple of those first aid ice packs that you "pop" to make them cold…just an idea.
If you reserve your cooler space for drinks only you should be able to make it through most of your day. Dry snacks like pretzels, peanut butter crackers, and granola bars can be stored in your backpack. If you really want to pack sandwiches then PB&J might be the best way to go since those don't need to be cold. Any other method will require you to either eat one meal from dining services, or get back to your resort room to re-stock.