One of the unique aspects to a Disney World vacation is the fact that you can choose from a wide range of accommodations. This is true for both bargain hunters and adventurers as there are many different types of resorts, hotels, and campgrounds.
So with all these choices, the only difficult part is determining which option best suits your family. To help you make a selection, we put together this overview of the most popular options.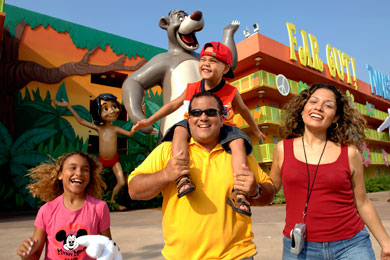 Value Resorts
Disney World Value Resorts are the cheapest option for visitors looking for a standard hotel-type room. But even though the price per night is more affordable, they still have a nice list amenities. Room refrigerators, laundry rooms, and shuttle service are just a few of the features you'll find at a Value Resort.
Disney's Pop Century Resort is the best value resort option in my opinion. The building was renovated in late 2010 and some of the fun features include multiple pools, expansive food court, and perhaps the best location to catch the shuttle bus.
Moderate Resorts
Stepping up to a Disney World Moderate Resort is comparable to upgrading from a Holiday Inn to a Marriott. Everything about them is generally one notch higher on the quality scale. The locations are generally more desirable, and you'll notice service upgrades like a concierge station and business rooms.
Disney's Port Orleans Resort is a good one to consider when shopping moderate resorts. The surrounding landscape offers a variety of outdoor activities and shopping destinations. The Doubletree Lagoon will keep your kids entertained for hours with the big waterslide, park area, and biking trails.
Deluxe Resorts
Rooms in this category are more what you would expect from a typical vacation resort. They are by themselves a unique vacation destination and are perfect for group outings. Most Disney World Deluxe Resorts have multiple restaurants inside the building as well as banquet and meeting rooms.
Disney's Grand Floridian Resort is one of the most famous resorts in Orlando. Here you'll wonderful views of Cinderella's Castle, supervised children's activities, and watercraft rentals. Attractions include the beach, water slides, 2 swimming pools, and easy access to shopping.
Delux Villas
The "cream of the crop" choice for those with an appreciation to detail, the Disney World Delux Villas provide the best Disney has to offer. Choose from one and two bedroom villas to have plenty of space to stretch out on your vacation. Multiple pools, balcony views, and room service are some of the features provided at this level.
Bay Lake Tower balances a luxurious experience with warm and modern features. Every detail has been covered, including the amazing swimming pool, which has a fun water slide wrapped in an intriguing glass block. The luxurious rooms, which are the size of a two room suite, are fully furnished with modern pieces to provide the feel of city living in paradise. Enjoy fantastic views of the Magic Kingdom right from your window.
Camping and RV Options
Yes, believe it or not there are campgrounds you can stay at while visiting Disney World. And just like the rest of the theme park you'll find the Disney magic extends out to the wilderness. Disney's Fort Wilderness Resort has four different campsite options to choose from. The most basic is the tent or pop-up campsite with the basic electric, grill, and picnic table. From there you get into campsite tiers with full hookups, larger capacities, and preferred locations. Overall this is a very affordable way to enjoy Disney World.
Rental Homes
Another option for off-site accommodations is renting a house or condo. This can be an ideal fit for large families or instances where two families travel together. There are plenty of rentals to choose from in the Orlando area, and you can shop by price and/or distance to the Magic Kingdom.