There is not much you can do about the rising costs of park admission to Disney World, but there are plenty of ways to save on travel and hotel rooms.  One of the most unique methods is make your trip to Orlando in an RV.  Not only can trim thousands of dollars off airline tickets for your family, you might be surprised at some of the great amenities that Disney offers to RV travelers.
Disney's Fort Wilderness Resort has all the features of a great campsite with the added bonus of being close to the main Disney attractions.  You can integrate your stay at Fort Wilderness with many of the Magic Your Way Packages as well.  Best of all, campsite rates start at $45 per night, which makes this by far the cheapest lodging option within the Disney properties.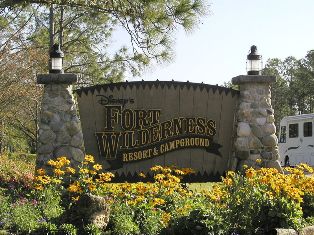 Some of the basic features included with your stay include access to several conveniently placed Comfort Stations.  Each station has toilet facilities, private showers, laundry facilities, ice machines, and pay phones.  This is in addition to hookups at each individual campsite such as water, charcoal grill, picnic table, 20 amp/120 Volt, 30 amp/120 Volt, 50 amp/250 Volt outlets, sanitary disposal system, and the availability of safety keeping boxes.  This is a well run campground with the cleanliness and quality you would expect from the America's largest theme park.
Camping at Disney World adds a special element to your vacation that most families will never get to experience.  The Fort Wilderness property has a host of fun activities all to itself.  You'll find horse trails, boat rentals, tennis courts, playgrounds, bike rentals and swimming pools right on the campsite grounds.  Entertainment options include campfire sing-a-longs and entertainment dinner shows like the "Hoop-Dee-Doo Musical Revue".
As many RV veterans already know, traveling the country and staying at campsites is a great way to meet new people.  When you combine the experience with a visit to Disney World it truly makes for special family vacation.  Of course not everyone is open to living outside the comforts of modern technology, but those who enjoy being closer to nature can save a substantial amount of money on their hotel and travel bills.