I received an invitation to apply for the Chase Disney Rewards Visa in the mail today. And while our family uses a different credit card rewards program, I thought I would review the offer since there are some decent benefits tied directly to Disney World vacations.
The main attraction here is that you earn 1% in reward dollars for every purchase you make with your Disney Visa. If you're as slow as I am with math that equals 5 reward dollars for every $500 spent. I'd call this an "okay deal" but you can probably find a better non-Disney rewards program by doing a little research online.
The rewards dollars you accumulate can be redeemed by requesting a Disney Rewards Redemption Card, which can be used at Disney Stores and on the Disney website. I read through the FAQ section here and it looks like it takes about 3 weeks to receive a redemption card after you request on through the website. Keep in mind too that your rewards are calculated at the end of the monthly billing cycle, so if you made a big purchase at the beginning of the month you probably won't be able to spend your rewards dollars for another 60 days.
Now the offer I received gives you the opportunity to earn a $200 Disney Gift Card if you spend $500 on the card in the first 3 months. This is basically free money assuming you pay off your balance before interest accrues. The last time I wrote about these cards the the bonus offers ranged between $50 and $100. The fine print says it will take 6-8 weeks to get your gift card, so plan appropriately if you want to use it towards your vacation. I recommend applying at least 9 months before your trip to be safe.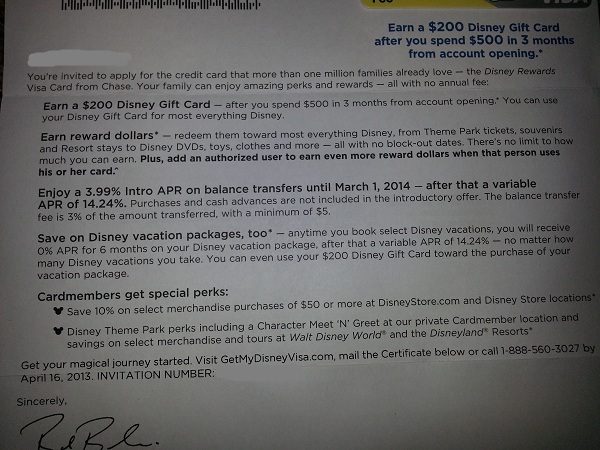 In addition to rewards dollars, the card also gets you 10% off most purchases within the parks and at the Disney Store. Note that a $50 minimum purchase is required for the discount, and you can't use it on park tickets. The card also gets you access to a special character meet-and-greet that is offered once daily at WDW and California Adventures parks.
So is the Disney Rewards Visa worth it? The free $200 dollar gift card certainly is, but I'm not sure if the everyday perks are any better than other card offers I've seen. That being said, you can always claim your $200 and cancel the card after a few months 😉