If you are one of the lucky few to have avoided credit card during the recent economic downturn then you might want to take advantage of rewards being offered with both Chase Disney Visa cards.
Like all credit card programs these days, the key to reaping to the benefits is to pay your balance each month. This is the only way to actually earn "free rewards." Otherwise the value of the benefits will likely be outweighed by the 14% in interest charges you'll pay every month. Using credit cards to save money on your vacation can work if you do it responsibly.
Now that you've heard my lecture on finance, let's take compare both cards to determine the better choice…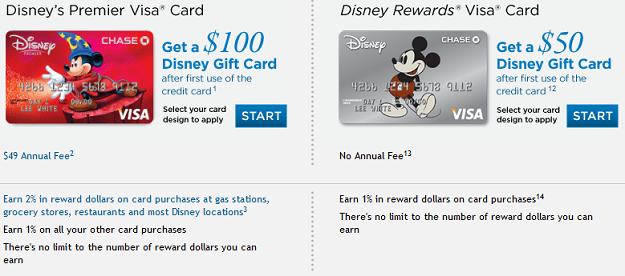 A quick glance at the diagram above shows that the Premier Card offers a $100 statement credit while the Rewards Card is giving away a $50 Disney gift certificate. The catch is that the Premier Card charges an annual fee of $49, so their offer is essentially worth $51. Keep in mind too that unless you cancel the card before your one-year anniversary, you'll get charged another $49. Annual fees are non-refundable, so I recommend recording your signup date on a calendar to avoid future charges.
Some might argue that a statement credit is more valuable than a Disney Gift Card since it is immediately applied to your credit card balance. After all, gift cards can get lost or left at home when you leave for vacation. I tend to agree with this only because I prefer automatic payments to eliminate unnecessary hassles.
The big advantage in choosing the Premier Card is the speed and level of rewards you can earn. 2% of your purchases at gas stations, grocery stores, restaurants and most Disney locations are converted into rewards dollars. This is in addition to the 1% you earn on all other purchases. The Rewards Card offers only a 1% conversion on all purchases, regardless of where the card is used.
Obviously if you have a family then you probably spend a good amount on groceries and gas. I figure my own family of four spends at least $750 on these two categories each month. Earning 2% of that in rewards dollars would earn us $15 in credits each month. Not a whole lot, but if we enrolled in the program six months before our Disney vacation I'm sure we would get at least $125 in gift cards.
Both cards offer the following card-member benefits…
– 10% off on select merchandise purchases of $50 or more at Disney Stores
– Private Character Meet 'N' Greets at the parks
– 10% off on select merchandise purchases of $50 or more at select locations at Walt Disney World & Disneyland Resorts
– 20% off the non-discounted price of select guided tours at Walt Disney World and Disneyland Resort
Another nice feature is the 0% APR for 6 months you get on select Disney Resort packages when you pay with your Disney Chase card. Note that the qualifying packages must be booked by you or your travel agent through the Walt Disney Travel Company or Disney Cruise Line.
In the end, the Disney Premier Rewards Card does appear to be a better value than the Disney Rewards Card. If nothing else, the 2% rewards you get for gas and groceries with the Premier Card will add up much faster than the straight 1% offered with the Rewards Card.
Keep in mind though, there are hundreds of credit cards out there to choose from. Just because these two are associated with Disney does not necessarily make them the best match for your family. It doesn't hurt to compare cards outside of the Disney universe before you apply for either of these.