It is that time of year again! Tickets for the 2012 Mickey's Not-So-Scary Halloween Party are now on sale. If you are planning a visit to WDW in the fall then I have some good tips here that will help you save a few bucks.
For those who have never attended before, the Disney World Halloween events are held on select nights September 11 through November 2. Festivities include a Halloween parade, special fireworks and trick-or-treating throughout the park. You'll also get the chance to see your favorite Disney characters dressed in their own Halloween costumes!
Unlike other park attractions, this party is considered a special event and an additional ticket is required to attend. You can buy these tickets today if you know which date you will be attending.
Here are 4 easy ways to save money on your Disney Halloween adventure…
#1. Take Advantage of Disney Discounts
You might be surprised to hear that Disney does offer some special rates during the Halloween season. Now you won't get a discount for the dates closest to October 31st, but if you visit between September 2nd and 29th then you'll qualify for discount up to 30% off your room nights.
In order to get the discount rate you must book your rooms by August 14th. The best deal for the budget traveler is 20% off offered at both the All-Star Music and All-Star Sports resorts. These are likely to be the first rooms sold out so you should jump on them while they are still available.
#2. Save with Travel Packages
It is always worth your time to search through travel discount sites like Expedia and Travelocity. You won't save much on airline tickets with these sites but you can sometimes stumble upon flight + hotel packages that make sense. Before I wrote this post I did a trip search on Expedia from Chicago to Orlando on September 21 through the 23rd. Here is what I found for 2 adults and 2 children…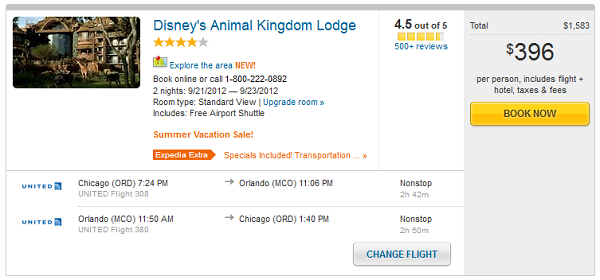 $1600 for the flight and a cool room at Disney's Animal Kingdom Lodge is not a bad deal. Staying on a Disney property also gives you access to their airport shuttle and free transportation between all of the Disney parks.
#3 Preorder Your Tickets for Mickey's Not So Scary Halloween Party
Buy your tickets in advance for the date you will attend the Halloween party. Not only will you save $7 per ticket but you'll also protect yourself from a sellout situation. Tickets for the September dates are $55.95 (ages 10+) and $50.95 (ages 3 to 9) which is a couple bucks cheaper than the October dates ($58.95 / $53.95).
#4 Buy Your Park Tickets Today!
Disney World usually raises prices annually in June, so depending on when you are reading this buy now before prices go up. Last year the ticket price increase went into effect on June 11th but it could happen any day around this date. If you missed the deadline you can try to scoop up the remaining inventory at Undercover Tourist. UT is the premier destination for discounted Disney World tickets – read more about them here.
So there you have it… 4 ways to save on your journey to Mickey's Not-So-Scary Halloween Party. The common denominator for all these tips is to book early. The deals available for September far outweigh those of October, and visiting during the off-season means you won't have to fight through the crowds as much. Happy Halloween!