If you have ever been to Walt Disney World in the summertime or over Christmas Break, then you know how busy it can be.  These are the peak times for family travel since children are out of school and parents have greater access to vacation time.  But visiting Disney during these time periods won't provide much relief for your wallet.  Disney recognizes these popular seasons, and you can expect to pay full price for each and every amenity.
Think Spring
One of the best times to book your vacation in Orlando is during the late spring.  Flexible travelers who can sneak in during this season typically find discount rates that can save as much as twenty-five percent off the standard prices.  Most of the special rates are offered after Easter through the middle of May.  When you consider the average family of four spends upwards of $2000 on their trip it doesn't take a mathematical genius to see just how much you can save.  Best of all, the Florida weather is absolutely sensational during this season.  You can expect highs in the eighties, but the extreme heat found in the summer is still weeks away.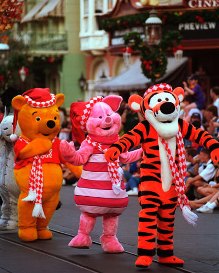 Fall Into Savings
Autumn is another money-saving season at Disney World.  Because the majority of kids are just starting school, the traffic levels at the park are much lower.  The weeks between Labor Day and Thanksgiving are typically heavily discounted, and are perfect for families with small children who have not yet begun formal schooling.   Since the crowds are at their lowest levels in this season, it makes it much easier to cart around little ones without the hassles of long lines or hyperactive teenagers.  Put it all together and Fall is a great time to take younger Disney fans to see their favorite characters in action.
What to Expect
If you decide to book in one of the off-seasons it important to research the different prices and packages available.  Even the sometimes overpriced Disney website should offer room rates in the $85 range.  If you don't mind staying away from the park, you can hunt down rates as low as $65 for a discount hotel that needs to fill its rooms.  For those who are a little more adventurous, you can wait until a week or two before and find last minute specials on discount travel sites such as expedia.com.  This can be risky if you don't have any flexibility in your arrival and departure dates, but those who do will almost certainly find outstanding savings opportunities.
Don't forget that you don't have to limit yourself to just Disney World, especially if you are staying away from the park grounds.  There are literally hundreds of family attractions in Orlando, and all of them will be looking to fill their seats with visitors during the off season.  Disney World is of course the pinnacle attraction, but it is also nice to get out and see all of what Orlando has to offer.