Anytime you have a destination as popular as Disney World you are going to find those who try to illegally profit from its good name.  These scam artists know how badly parents want to take their kids to Disney and they use this innocent desire to prey on them.
Luckily the Disney company is always on the lookout for fraudulent offenders, and they are quick to prosecute anyone involved in suspicious behavior.  That being said, you should still familiarize yourself with the common traps that are used on Orlando tourists.
Bait and Switch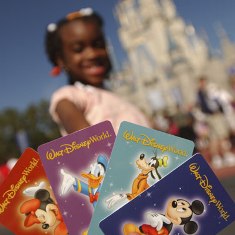 Not necessarily a scam as much as a colossal waste of time is the timeshare salesmen who offer discounted tickets to Disney World in return for listening to their pitches.  While it may sound like a small price to pay for tickets that are either free or heavily discounted, it simply is not worth it.  The bottom line is these timeshare seminars can run between four to six hours long and the pressure to buy is overwhelming.  You are much better off enjoying your time with the family instead of wasting it in a hotel conference room.
Fake Tickets
Every year Disney goes through great lengths to insure their park tickets are difficult to copy, but there will always be someone with the technology to give it a try.  This is why it so important to buy from a reputable source.  Beyond the Disney website you can also buy tickets at Orlando tourist information stops and reputable travel agencies like AAA.  Take the time to familiarize yourself with how a real ticket should look.  If you have any doubts then hold back until you find a vendor you can trust.
Contract Terms
Another thing to be cautious of is the contractual terms of your vacation package.  Some sneaky agencies will include ridiculous payment terms in their contracts that are difficult to manage.  What happens is some people will miss a deposit or payment and their entire vacation will be cancelled without refund.  The vendors lure unsuspecting buyers in with cheap prices and offer an "easy payment plan" that is designed to confuse or trick them.  Since the packages are sold at a loss, the goal is to get you to miss a payment so they can keep your money and cancel the reservations.  This typically only happens with discount vendors like those you find on eBay.  Again, make sure you understand the complete terms of the sale before making the purchase.
Fake Coupons
You will find hundreds of opportunities to buy Orlando coupon books while you are planning your vacation.  They claim that by spending $25 to $50 on the coupons you will save hundreds of dollars.  The problem is that most of the discounts are valid during the peak tourism season or else they are only good at second-rate hotels and restaurants.  The fact is that you shouldn't have to pay for coupons.  Just do your homework before traveling to find the best deals available during the season you will be visiting Disney World.
These are just a few of the scams you will find targeted to Disney vacationers.  Since thieves and con artists are always testing new methods you should be leery of any deal that is too good to be true.  The simplest way to avoid getting taken is by buying through agencies you trust.  This isn't limited to just Disney as there are plenty of travel agencies and online suppliers that have solid reputations.  Just be sure to do your research before handing over your credit card.