Family vacations to Disney World are a special treat for everyone.  While there is no question you will have a great time with everyone, there is always a budget element that comes into play.  No one wants to put too many restrictions on their vacation, but you also don't want to go broke in the process.  Here are some tips to making your Disney World Vacation more affordable.
Consider a Rental Home
There are plenty of hotels to choose from in the Disney World area, but they can be very expensive during peak times.  One option to avoid these exorbitant fees is to research rental homes in the Orlando.  There are always plenty to choose from and most are only 10 minutes away from the park.  Not only is the rent cheaper, but you will be able to cook your meals which will save you hundreds.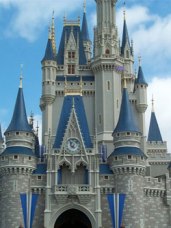 Save on Souvenirs
Everyone is going to want to take back a little piece of Disney with them from your trip.  This is expected, but you set some round rules to avoid being bombarded with requests.  If you child is old enough then you can give them an allowance and explain that this is all they get.  If you have small kids, then it is best to promise them something in the last couple days of your trip.  Tell them to shop around and find which item they really want.  If possible, do your souvenir shopping outside of the park for more affordable options.
Always Call for the Best Deals
No matter where you buy your accommodations and Disney World park tickets from, make sure you actually speak to a customer service agent.  Online bargains can be tempting, especially when they offer instant access, but you would be surprised how much you can sometimes save by talking with an operator.  They know what is available, and they also have the power to customize reservations to fit your needs and budget.
Do Your Research
Nothing will ever save you as much money on your Disney vacation as research will.  Not everyone has the luxury to plan way in advance, but those that do should be using the internet to shop for bargains.  There are also books like the Disney World Savings Guide that are perfect for first time visitors to Disney World.  Everything you need to know about saving money is laid out in this excellent resource.
You can make Disney World affordable, but the only way to achieve it is by planning ahead and knowing what to expect.  Don't be afraid to look at options outside of the Disney World Park.  This is where many of the cheapest options are located.