If you have never been to Disney World before you are guaranteed to experience two things.  The first is good news…you are going to have a ton of fun with your family.  The second experience is not quite as exciting, and that is the feeling of being overwhelmed by all of the different vacation deals and packages you will have to sort through.  Not to worry though, if you spend some time doing your research you can make sure you are getting a solid deal.  Here are some simple strategies to get you started in the right direction.
On-Site or Off-Site Accommodations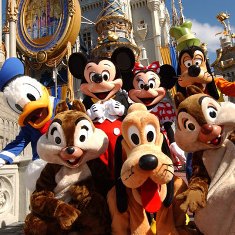 Deciding whether or not you will be staying on the resort property should be one of the first questions you ask yourself.  Obviously, the benefit of staying at an on-site Disney resort is the convenience of location.  But there is a significant increase in cost for this luxury, and it spans across multiple categories such as food and entertainment.  If you are working with a tight budget you should consider an off-site hotel.  Not only will the room rates be cheaper, but you will have quick access to cheaper outlets for meals and souvenirs.
Always Call for the Best Prices
While we all enjoy the accessibility of the internet for research purposes, it never hurts to follow up with a real person on the phone.  Many internet packages offered online are take-it-or-leave-it propositions.  They are structured as automated sales and therefore they don't always calculate the maximum savings offered.  Even if you find the deal of a lifetime, it never hurts to pick up the phone and see if you can't find a better price.  Depending on cancellations and the time of year, a hotel might grant you a special rate if you can prove to them that you are shopping around.
Disney isn't Always the Cheapest
You would figure that since Disney owns its resort properties that they would be able to offer the biggest discount on packages, but this is not always true.  There are a number of experienced travel agents that buy inventories in advance at wholesale prices with the risk of having to resell them.  Because of this fact they can still make significant returns while be able to provide you substantial savings over the current market rate.  Comparison shopping is the key to unlocking these deals.  Don't just assume that Disney is the cheapest – get out there and do your homework!
These are just a few things to consider before making your vacation reservations.  No matter how attractive a package can appear online, it is always best to make some phone calls to test the market.  Of course you also need to check your sources to make sure they are reputable so that you don't fall victim to a travel scam.  This can typically be avoided with a simple internet search of the company or person you are buying from.