As Disney World has grown to become the most popular family vacation destination, so has the amount of information available to tourists.  Unfortunately, there are very few guidelines to publishing a website or book about Disney World, so readers have to use good judgment when determining what to believe.  In an effort to clarify some of the more common myths about Disney World, we have published these quick facts for planning an enjoyable Disney escape.
Disney is Not the Only Source for Tickets.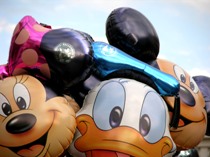 Most vacationers believe that Disney reservation outlets are the only place to get park tickets.  The truth is that there a handful of other options if you dig deep enough.  AAA and other auto clubs typically offer tickets at a small discount.  Military personnel can find tickets at their base offices as well.  You may even be surprised to find that your employer can provide discount opportunities on tickets.  The best thing you can do is ask around before making your purchase.  You never know where you'll find savings opportunities.
eBay is Not a Good Source for Disney Discounts.
On any given day there are hundreds of Disney travel auctions active on eBay.  Some of these appear to offer substantial savings, especially to families on a budget.  However, there are certain risks involved with buying on eBay.  For starters you may not always be buying from a reputable source.  You will also find the terms of these deals are usually very strict, which limits your options on canceling or rescheduling.  Worst of all, most third party vendors offer no guarantees with their reservations, leaving you high and dry if there is a problem.
Vacation Packages are Not Necessarily Good Bargains.
A common myth about Disney vacation packages is that they offer significant discounts.  In reality however, package prices usually represent the same costs you would incur if each item was purchased separately.  Disney provides packages as a convenient way to make all of your arrangements in one place.  Bargain hunters normally find that comparing prices for hotel, park admission, and travel arrangements on an individual basis will yield the most money-saving possibilities. 
You can't always believe everything you hear about visiting Disney World.  In an era when anyone with a website can be call themselves an expert, it is more important than ever to do your homework.  Start by talking with friends and family.  The best resources usually come from references you can trust.