Disney World will once again kick off the new year with their two popular marathon events. The Walt Disney World Marathon Weekend runs from January 5th through the 8th, and the Princess Half Marathon Weekend is scheduled for February 24th through the 26th.
Both events will draw thousands of runners and their families to Disney World, making these weekends the busiest times to visit the park in January and February. With that, it is no surprise that you will have to dig much deeper to find discounts during these days.
As of today, the Walt Disney World Marathon is already 72% full and most of the secondary races like Goofy's Race and a Half Challenge are well on their way to being sold out. With demand for rooms being so high you can expect to pay a premium on the most popular travel days. For example, here are the best rates we found for a Value Resort during this time…
Disney's All-Star Movies Resort
Wednesday, Jan 4th $ 79.20
Thursday, Jan 5th $ 95.20
Friday, Jan 6th $ 95.20
Saturday, Jan 7th $ 95.20
Sunday, Jan 8th $ 79.20
As you can see, you'll pay a $16 premium for stays during the key marathon dates. This percentage increases when you start to get into Moderate Resorts and higher.
Runners participating in Disney's Princess Half Marathon Weekend will pay even more for their accommodations. This year's event coincides with spring break for some colleges, which of course increases the demand for rooms nights. Here is a peak at Value Resort rates during this weekend…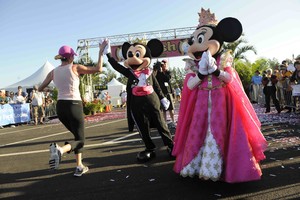 Disney's All-Star Movies Resort
Thursday, February 23rd $ 149.00
Friday, February 24th $ 174.00
Saturday, February 25th $ 174.00
Sunday, February 26th $ 129.00
Remember that these prices are for room nights only and do not include park tickets or marathon registration fees.
The best way to save some money on marathon weekend room nights is to compare rates at some of the off-site hotels and resorts. This can be a big trade-off though because you'll have to deal with parking or shuttle service from the hotel. For many runners the hassle simply isn't worth saving $10 to $30 a night.
The good news is that both marathons are fantastic events for the family. Each race has a host of special events that are fun for the whole family, with the added bonus of playing at Disney World during your stay. The private setting of the park makes both the Walt Disney World Marathon and Princess Half Marathon one of the best spectator races to participate in.
Visit the official marathon website for more information regarding registration fees, event schedules, and spectator access.