I just returned from our most recent trip to Disney World. We booked the trip around my wife running in the Princess Half-Marathon. It was a great trip and one that opened my eyes to even more realities about planning a cheap Disney World vacation.
Because of some family connections we were able to stay at the Marriott Orlando World Center at a discounted rate of $85 per night. We were really excited to stay at this hotel since it was a "luxury resort" that featured beautiful facilities. The staff was friendly and the heated swimming pool was a favorite for the kids. The hotel definitely lived up to the hype, but the restaurants were a bit pricey. I suppose that is to be expected at a full service resort hotel.
Despite the comfortable surroundings I quickly realized that I will never stay at an off-site hotel at Disney World again. For starters transportation is a huge money drain even if you rent a car. I elected to taxi around town after seeing that renting a vehicle was going to cost us about $700 for 5 days (mid-sized vehicle with 2 child seats). When you include the hotel parking fee of $15 per day it doesn't take a mathematician to see there are better options out there.
We used the Mears towncar service to get us to and from the airport for $125 round trip. On Disney days we used an independent cab operator we met at the hotel to shuttle us back and forth at $50 round trip. Including a one night excursion to Downtown Disney, we spent about $230 on cab fees and tips. That brings the total transportation costs to $355 or half the cost (and headache) of renting a car.
Now if we would of have stayed at a Disney World Resort we could of utilized their free airport shuttle and park transportation to eliminate all of those extra costs. This would of also saved us travel time to the park and the hassle of scheduling rides.
The amenities at the Marriott World Center would probably compare to a Deluxe Resort at Disney World, but since we didn't use all of the available features I'd say a Moderate Resort is the better match. I compared prices before our trip and Moderate Resort rooms were going for about $300 and the World Center was offering room nights for $265 per night. So if we were paying full price the transportation expenses would have made the on-site option a better deal.
Staying on-site would of given us cheaper options for food. Instead of paying $40+ for every meal we could have opted for less expensive choices at Downtown Disney. The dining option could have paid big dividends here.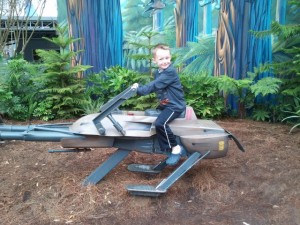 One thing is for sure, February is fantastic when it comes to beating the crowds. I expected the parks to be packed with the Princess Marathon and NBA All Star Game going on. Even though the traffic was steady, most of the popular rides had wait times under 30 minutes. Fast passes were easy to come by – even after lunch when they are usually all gone. My son was most excited for the Star Wars Star Tours Ride at Hollywood Studios. We rode it 3 times one morning and never waited more than 10 minutes!
Overall we had a great experience. My wife had fun with the race, although the 4:00 am check-in time was ridiculous. She ran with her friend and together they placed in the Top 10 team times. My baby girl (3 years old) was scared by some of the rides and shows but there were plenty of things she loved. I think our best trip will be when she is 5 and my son is 7.
I'm already looking forward to our next trip to WDW!