Active and retired members of the United States military are entitled to some substantial saving at Disney World in 2012.
The feature discount is the 4-Day Park Hopper Tickets for $138, which is a savings of over 50%! There is also the option to add water parks admission for an additional $27. So in short, $165 gives you access to all of Disney Parks each day for 4 days.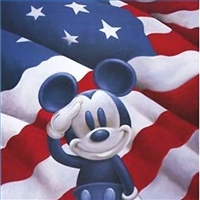 The second discount option is 40% off most room nights at Disney World resorts. This discount can only be calculated when you make your reservation, so it is hard to quantify how much it is worth. There are a handful of blackout dates and you may not get a full 40% discount depending on availability and the type of resort you are hoping to stay at.
Because of the rules and restrictions that apply to these discounts it is best to call WDW at (407) 939-7830 to make your reservation or purchase tickets.
Here is an overview of the most important terms and conditions…
Prices listed here may be more than actual prices charged at military base ticket offices, so be sure to check these outlets first if you can.
Discounted military tickets must be purchased by September 27, 2012 and activated at a Walt Disney World theme park ticket window by September 30, 2012.
Tickets can only be purchased by eligible service members or their spouses. Valid military identification is required at time of purchase. Service person must be an active or retired member of the U.S. military, including the National Guard, Reservists and the U.S. Coast Guard.
Quantities are limited to 12 Disney 4-Day Military Promotional Tickets purchased, activated or used by any Eligible Service Member or spouse during the life of this promotion. Only 6 tickets may be purchased, activated or used in any single week of the promotion. One ticket must be used by an eligible service member or spouse per visit.
Friends and family members can use discounted tickets as long as all of the guidelines above are met.
Each Disney Military Promotional Ticket must be used by the same person on all days. Disney Military Promotional Tickets may be used ONLY by the Eligible Service Members, spouses, other family members or friends for whom they are purchased. In addition, a valid military ID may be required for admission.
All 2012 Disney Military Tickets expire after September 30, 2012 and cannot be used on 4/1 through 4/12 and 7/4 at Magic Kingdom Park.
Call the Disney World Military Reservation Line at (407) 939-7830 for more information.