Eligible members of the United States Military can get a great deal on 4-Day Magic Your Way tickets between now and September 28, 2013. A standard 4-Day MYW ticket costs the average person $256, but you can get them for $156 with the military discount.
Here are the important terms and conditions…
– Some blackout dates apply, but tickets are generally good for stays through September 2013. The most notable blackouts occur during the school break periods of Thanksgiving, Christmas and Easter.
– Each date has a limited amount of discounts available, so it is best to purchase your tickets now if you already know your vacation dates.
– Military tickets can only be purchased at participating U.S. military sales outlets ONLY by Eligible Service Members or their spouses. You cannot resell the tickets or transfer them to anyone.
– As referenced on the Disney World website, "Eligible Service Members" are active or retired members of the U.S. military, including the National Guard, Reservists and the U.S. Coast Guard.
– You do not have to designate your vacation dates in advance. The tickets are "activated" upon first use but expire on September 28th. So if you travel to Disney World in April and use 2 of your 4 days, then you will need to use the remaining 2 days before the September expiration date.
– Valid military identification must be presented upon purchasing the tickets AND when entering the park.
– Tickets are limited to 6 per service member or spouse. Thus, you cannot purchase 6 tickets as a service member and then send your wife to buy 6 more tickets.
– At least 1 of the tickets you purchase must be used by a member of the military or his/her spouse.
Disney World has been offering these discounted tickets to military members for several years now. It is a very popular program, and many service families combine the savings with a stay at the Shades of Green Resort.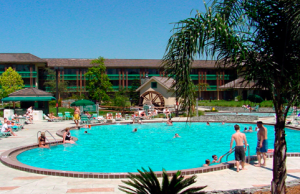 Shades of Green is an exclusive resort property operated by the Army that is open to all military branches. Benefits to staying at SOG include tax-free room accommodations and special accommodations for those who have been wounded in battle. In addition, military members can purchase their discounted tickets at Shades of Green and take advantage of free bus transportation to the parks. For more information call 888-593-2242 or visit http://www.shadesofgreen.org
READ MORE: Be sure to check out Steve's Military Disney Tips for the most comprehensive collection of resources for military families making the trip to Orlando.