The new Fantasyland exhibit will open at Disney World in Orlando on December 6th. If you act quickly, you still have a chance to win a free trip to see this new addition and treat your little prince or princess to a magical vacation.
There are two sweepstakes ending soon that have incorporated the Fantasyland theme into their prize packages…
The first, and best in my opinion, is the Cinderella Dreams Come True Sweepstakes hosted by Disney Movie Rewards. There are 3 awesome grand prize packages up for grabs. Each one includes a trip for four to WDW, round-trip plane tickets, room accommodations for four nights, and 5-Day Magic Your Way Tickets with Park Hopper access.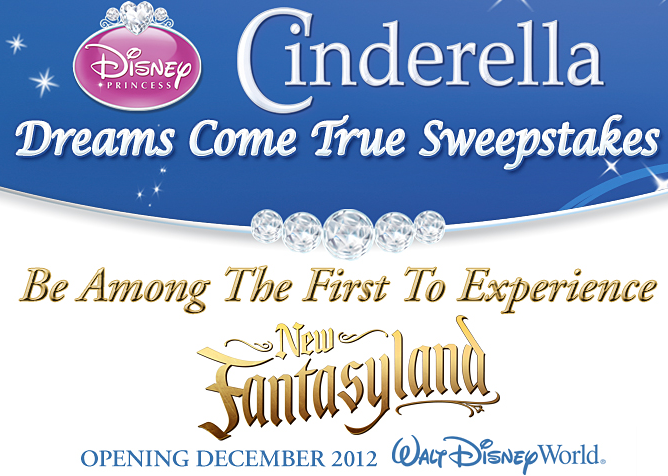 And that is not even the best part! Your regular room will feature the "Presenting Your Princess" theme, and on one special night you get to stay at the Cinderella Castle Suite in the Magic Kingdom, which includes breakfast at the Cinderella Royal Table. Throw in 2 Bibiddi Bobiddi Boutique Princess makeovers and a $600 Disney Gift Card and this is one of the best WDW contest prizes you could ever ask for.
Bonus – 100 First prize winners receive a Princess Vanity Playset – just in time for Christmas!
DEADLINE IS OCTOBER 20, 2012: Click Here to Enter
The second contest is the Disney Channel Fantasy Vacation Sweepstakes. Winners in this contest get a trip to the Fantasyland grand opening ceremonies. You won't get all the princess amenities included in the other contest, but you'll be one of the first people to experience the new Beauty and the Beast storybook adventure attraction!
The grand prize features a 6 day/5 night trip for four to Walt Disney World on December 4th through the 9th for the opening day of Fantasyland. The complete packages includes hotel, room, Magic Your Way Tickets, and a $1000 Disney Gift Card!
DEADLINE IS OCTOBER 31, 2012: Click Here to Enter
Note that I am not affiliated with these contests in any way. Make sure you read all the rules before entering. Both sweepstakes offer options for multiple entries, but you'll want to read the fine print so that you don't accidentally disqualify yourself.
Good Luck to Everyone!