While summer is the traditional time to pack up the family and go on holiday, who says you can't take the kids out of school for a week and head to Disney World once the leaves start to change? Planning a family holiday can be tricky, and sometimes conventional logistics do not work. In other words, just because the kids are off during the summer does not mean you can escape the office.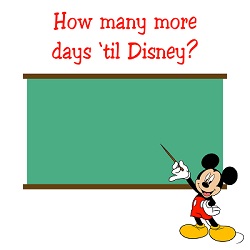 Most kids would be more than happy to collect their schoolwork from their teachers and do it on the long flight to Florida. Think about it like this: Once you let the kids play hooky for a fall holiday, they will once again think you are one of those super-cool parents. Even if that new found coolness only lasts two-weeks, it is better than nothing.
When a family plans a holiday, they do not have a lot of options when it comes to timing. Most families view summer and Christmas break as the only two times they have for getting away. However, an unconventional approach to a family holiday has numerous benefits. Here are three reasons why traveling to Disney World in the fall trumps a summer or winter holiday.
Florida – The Western Tropics
Florida is notoriously steamy and tropical in the summer. The weather, however, is much cooler in the fall. Trekking around Disney and waiting in lines under a scorching sun is not everyone's idea of a good time. Foul tempers and grumpiness are bound to ensue. When you are not sunburned or drenched in sweat, you are sure to have a more enjoyable time.
Compact Crowds
The crowds are thinner in the fall than they are in the summer and winter. Orlando is one of the most visited cities in the U.S., and the theme parks are a madhouse in the summer. Whether it is Pirates of the Caribbean or Space Mountain, nobody wants to wait in line for two hours for a ride that is over in three minutes. Winter is just as bad as summer; every American family in the northeast ventures to Florida over winter break in order to escape the cold.
Pay Less
The hotels and holiday packages are cheaper in the fall. Once Labor Day rolls around, the summer season is officially over. In order to draw in customers, hotels lower their rates. It is a budget friendly time of the year to take a family holiday.
Taking a family holiday should not be a paint by numbers concept, and you should not feel pigeonholed into taking a holiday at a certain time of the year. Cooler weather, thinner crowds and cheaper rates are all reasons to travel during the off-season.
This was a Guest Post from:
Meet magic in Disneyland Florida with Travel City Direct