If you are just coming off your Christmas vacation at Disney World then you are probably already thinking about your plans for 2011. While it is good to plan ahead, there are some minor hurdles to keep in mind when making plans for next year.
The first thing you'll notice is that the dates for the 2011 Mickey's Very Merry Christmas Party have not been released yet. Now if you look back at the 2010 dates you'll see that festivities were scheduled for most Tuesdays, Thursdays, Fridays, and Sundays from November 8th through December 19th. It is somewhat safe to assume the same daily schedule will be the same for 2011, but the best bet is to stay through a weekend between November 11th and December 18th, 2011.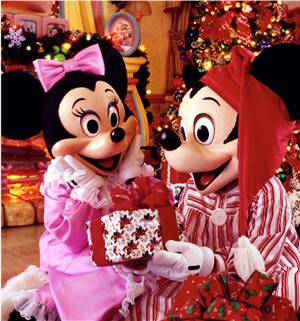 By following this advice you will likely have at least two dates to choose from for attending the Christmas Party. Unfortunately though, you won't know specific date options until July when the official schedule is released. Last year the schedule was posted on July 27th.
For budgeting purposes you also should factor in the additional cost of attending Mickey's Very Merry Christmas Party. Advance tickets prices in 2010 were $53.95 for ages 10+ and $47.95 for ages 3 – 9. Same day ticket purchases cost an additional $6. Sellouts are typically not an issue for those buying in advance, but the December 19th party did sellout last year…so try not to wait until the last minute. To complicate things some more, the final five performances are usually blocked from advance ticket sales.
There is good news for those who are not ready to make their Christmas reservation this early in the year. If your schedule is flexible and you can afford to wait until mid-August then you can take advantage of the room rate discounts that are typically offered in late summer. The cheapest deals fall between the week after Thanksgiving through mid-December. Of course this is a time when school is still in session so not everyone will be able to take advantage of these dates.
So in short, beginning on January 1 you can book your room reservations, vacation packages, and park tickets. However, if you can wait until late summer you will have access to the Very Merry Christmas Party schedule and access to potential savings opportunities on select rooms and dates.