Of all the expenses you have to account for before traveling to Orlando, food is the hardest to calculate.  Of course you know in advance that your family members will get hungry, but it is not easy to estimate how much you will spend on meals.  This is one of the reasons that the Magic Your Way Vacation Packages are so popular.  With the optional dinning feature, you can control food expenditures before you set foot in the park.
How It Works
The Disney Dinning Package includes one quick service meal, one snack, and one table service meal for each night of your stay.  Quick service meals are offered at the park and are similar to what you would find in a fast food combo menu.  Snacks include ice cream treats, popcorn, and soft drinks.  Table service options are offered at different sit-down restaurants throughout the park.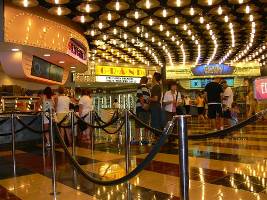 The meals included in your vacation package are cumulative; meaning that you can use them at anytime during your stay.  For example, you can redeem three snacks per person on one day and use two table service meals the next.  You will receive a dinning card that stores your allotment of meals and is used by the cashiers as payment.  All service charges and gratuities are included with the price.
If you are interested in special food options like Character Dinning and Disney Signature Dinning, a handful of locations offer the opportunity to redeem two table service meals as full credit for one meal.  Keep in mind that reservations are necessary for the most popular attractions.
The Cost
A three night Magic Your way Package with Food costs about $450 per adult, $325 per child under 18, and $200 per child under 10.  For six night stays, the price increases to $700, $425, and $250 respectively.  This is a pretty good deal as it averages about $35 per day for food per adult.  Most people would find it difficult to eat under that budget without the package deal.
Is It Right For You?
There are several things to consider before purchasing the dinning option.  Are you willing to accept the restrictions of eating at only those places that are approved under the plan?  You should also consider how many character dinning experiences you plan on attending.  There are only a few approved locations that accept the 2-for-1 meal plan exchange rate, and your kids might not be as interested in these options.  Review this guide to dinning plan locations for more information.
Overall, the food packages offered at Disney World can be a great budget saver for the right family.  It is nice to be able to plan most of your food costs before you go.  You can also help control costs by bringing snacks and beverages in the park as long as you don't mind carrying them around all day.  The best plan is to use a mix of both options.  This will help you save money and prevent anyone from going hungry while on your vacation.