Still trying to decide if you should stay at a Disney World Resort or an off-site hotel in Orlando? Every family has different needs so there is no clear answer for everyone. Here are some of the pros and cons for each scenario…
Advantages of Staying at an Orlando Area Hotel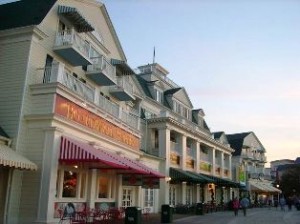 • Depending on the hotel you choose, most of them offer a variety of value-added amenities to compensate for their off-site location. Of course the best amenity is that they typically cost less!
• Most hotels located outside Disney World are larger. This is a big advantage for families because in some cases you can sleep 5 to 6 people, while Disney World hotel rooms only sleep 4 people regardless of the age of the guest.
• Many Orlando hotels offer free transportation to Disney World and other attractions like Universal Studios and SeaWorld. Disney World Resorts do not provide transportation to the other Orlando attractions in the city.
• Speaking of other attractions, Orlando has much more to offer than just Disney World. Staying in an off-site hotel gives you easier access to hundreds of other local tourist destinations. This includes theme parks, shopping outlets, great restaurants and even golf courses.
• A lot of Orlando hotels offer discounts for Disney World tickets and special admission rates for SeaWorld and Universal Studios.
• Many of the large chain hotels provide free breakfast for their guests. This is an often overlooked bonus that can save you $5 – $10 per person/per day. You won't find any freebies like this at a Disney World Resort.
• The competition for Orlando hotel business is fierce. This is a good thing for tourists because the hotels are always remodeling, adding room features, and keeping their prices low. By comparing hotels you are sure to find outstanding deals.
Advantages of Disney World Resorts
• Location and free transportation to the airport and Disney World parks. This is without question the primary benefit of staying on-site.
• Disney World keeps strict quality guidelines were created to help make sure you get the level of accommodations you pay for.
• Disney World Resorts offer "Extra Magic Hours" that allow resort guests to enter the park an hour early and three hours later than other guests who are not staying on-site.
• Employees working in off-site hotels are not always familiar with the Disney World or even the Orlando area. Disney World Resort employees however do know the property well and they are trained at helping you find your way.
• Guest at Disney World Resorts can charge park-related expenses to their room account, making it easier to purchase food and souvenirs. Most properties also qualify guests for free package delivery to their room. This eliminates the need haul cumbersome bags around the park.
• Disney World guests have many more opportunities for "character encounters". This can include evening story times in the resort common space to even having a character tuck the kids to bed as a special treat.
In the end there is really no right or wrong choice between staying on Disney World grounds or in an Orlando hotel. The most important thing is to talk with your family, research all the options, and decide what the best fit is for you. As a general rule, the longer you stay beyond three days the more likely it is you will appreciate the flexibility of staying in an Orlando hotel. The city was built for tourists, and it only makes sense to get the most out of your stay.