No doubt it can be intimidating to try and organize all of the projected costs for your Disney World vacation. However there is a great online tool you can use to get an instant quote on your hotel room, theme park tickets, and dining accommodations.
Deep inside the Disney World website there is a handy resource called the Vacation Package Guide. By entering a few simple parameters you can get an accurate quote for a custom made vacation package that suits your needs.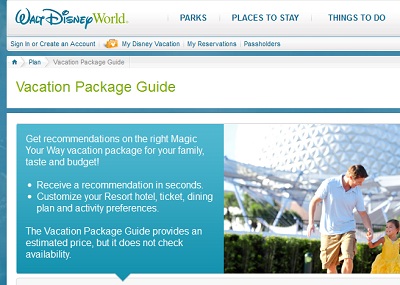 Just recently I used this tool to price a six day vacation for a family of four with children ages 4 and 7.  The results were were well suited to my needs and the price was surprisingly affordable.  Here is an overview…
Customized Package for July 15, 2013 to July 20, 2013
Resort Category: Disney Value Resort Hotel
Resort Hotel: Disney's All-Star Music Resort
Room Type: Standard Room
Package Type: 6-Day Magic Your Way Package Plus Disney Dining Plan
Package Price Start at: $2,500 USD
This package averages out to be just under $100 per person/per day and includes hotel, food, and park tickets. So the only thing left to calculate is travel costs, rental car (if any), and souvenirs. I would project $1,200 for plane tickets and $600 for a rental car. Throw in some cheap souvenirs and gas money to put the whole trip at $4,500. That's a pretty good price for a summer vacation in my opinion.
Now the cool thing about this Vacation Guide is you can customize the results to match your taste. For example, under the hotel price category the system offered this suggestion…
This resort recommended for its:
-Affordable comfort and convenience
-Celebration of the love of music and affordable family suites
It then provided an option to upgrade my accommodations without changing anything else in the package…
You might also like:
Resort Category: Disney Moderate Resort Hotel
Resort Hotel: Disney's Port Orleans Resort – Riverside
Room Type: Standard Room
Packages Start From $2,340 USD
These types of suggestions were also provided for food and park tickets, making it simple to upgrade or downgrade features to meet your budget and preferences.
So the bottom line here is that you don't need a scientific calculator to get a Disney World vacation quote. There are resources like this one available for free right on the DW website. This is the perfect way to get pricing for your trip while you are still planning your vacation. Oh, and I forgot to mention…no email or registration is required to use it!
Happy Planning!