It has never been easier for travelers to find local deals while on vacation thanks to the plethora of daily deal sites available online. Disney World visitors can use this to their advantage by using sites like Groupon.com to save money on dining, souvenirs, and even adventure tours.
If you're not familiar, Groupon offers special savings opportunities at restaurants, spas, and other service-oriented business. Basically they post a deal on their website and if enough people buy it then the coupon is activated.
So how can the average Disney World visitor capitalize on this new technology? It is quite simple actually. Groupon allows you to search for deals by zip code, which means you don't have to be an Orlando resident in order to participate (you will though need to register for a free account to participate). Simply type in the zip of where you are staying and choose from a wide selection of deals.
I recently entered the zip code for the Swan and Dolphin Resort near Disney World (32830) and here's what came up…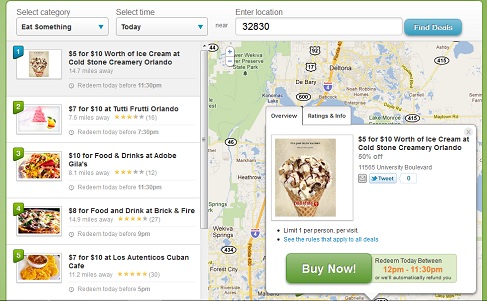 So as you can see there were numerous offerings or local restaurants. Some deals are better than others, but it is hard to beat 1/2 price ice cream on a summer day! The best part about these "daily deals" websites is that new offers come online throughout the day. You can literally use your smartphone to check for coupons while discussing dinner options with your family.
Now keep in mind that these deals are going to be for merchants outside of the theme park, so this strategy works best for families who are staying offsite. You'll also find that merchants use Groupon to attract customers during the slowest periods of the day. For example, you might see a $20 gift certificate for only $10 but it might only be valid before 5:00pm. Still, you can save a nice chunk of change (and avoid long lines) by being more flexible with your meal times.
In addition to Groupon, here are some other daily deals sites you might want to register for before you leave for Orlando…