Families looking for additional room space and a fun kid-friendly hotel for their Disney World Christmas vacation might want to consider the Nickelodeon Suites Resort in Orlando. Now through November 30 they are offering special discounts on 3+ day stays, including dates around Christmas.
For those who are not familiar with the Nick resort, you are in for a real treat. You'll find an endless supply of shows, activities, and attractions to keep active kids entertained when you return from the park. From dozens of unique dining experiences (including character meals) to water parks and even a shopping mall!

Here is a quick list of the best features…
– Two Water Parks with heated pools, 13 water slides, and a play zone for children.
– 4-D theater with daily Nick-themed shows.
– Studio Nick Theater with live shows and entertainment.
– Putt-putt course, basketball courts, and a wet-n-dry recreation zone.
– Huge arcade room with video games and prize games.
– Complimentary WiFi in common area.
– Shuttle service to and from all the major Orlando parks.
Long story short, this a great property for family fun and convenience to Disney World! Most of the standard room rates I reviewed ran between $150 to $300 per night depending on the room size and date. This is a little cheaper than you would get for a night at a WDW Moderate Resort. The real bargains though can be found in their special deals section.
Now through 11-30-12 you get 1 free room night for every 2 nights you book!
With the free room offer, the average price per night drops to around $130 for a 2 bedroom Kidsuit. That is a pretty good deal for a hotel with 2 bedrooms! The only "catch" is they have a $28 daily resort fee, which covers the entertainment and recreation offerings.
I ran a 6-night stay beginning on December 15th and the total with taxes and fees as $1068 (includes 2 free nights). So the out-of-pocket average in this case is $178 per night. Of course you'll run into taxes and fees no matter where you stay in Orlando so this is still a good deal.
Important: In order to view the discount rates you need to enter promo code: 3RDFREE and select at least 3 nights in your room search. See the image below…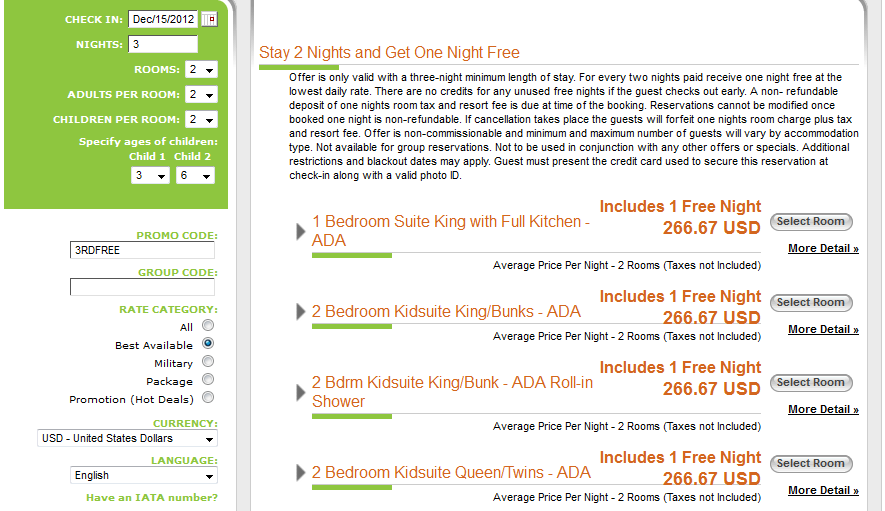 Overall this is a good off-site hotel option, especially if you are searching for "cheap and fun" accommodations during Christmas. Note that I personally have not stayed at Nickelodeon Suites Resort, but I'm including it here because this particular deal caught my eye.