The Main Street Electrical Parade has been a family favorite for many years. So much in fact that it was brought back from retirement due to overwhelming demand. The nighttime atmosphere during the parade is energizing, with everyone waving glow sticks and lights as Tinkerbell and the gang make their way down Main Street, U.S.A.
Disney World vendors are of course ready to sell you all of the glowing accessories you need to "participate" in the parade. You'll find every imaginable combination of light-up, whirly toys with prices ranging from $11 to $25 each. Now to be fair, some of these toys are pretty cool, but the investment can be steep for those with more than one child in their group.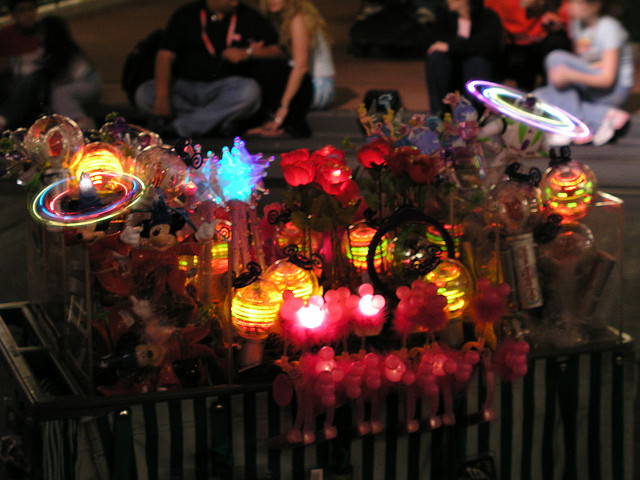 A cheap alternative is to come prepared with your own glow sticks from home. Michael's Crafts, Party City and Dollar Tree stores regularly carry an assortment of sizes and colors. Larger sticks can be had on average for less than a dollar, and the thin necklace-style ones are sold in bulk packs for as low as $1!
What about glow toy envy? Yes, some children will still be mesmerized by the spinning glory of the battery-operated toys sold on Main Street. Here are a few ideas for handling these situations…
– Go for quantity over quality. Get the bulk packs of glow sticks and give your kid a dozen of them to play with. More is always better!
– Share with the families around you. Young children will feel more confident with their glow stick if they see other kids around them with the same thing. I'm sure the other parents will appreciate the money you saved them as well 🙂
– Don't make it a surprise…make it an event! Come up with a creative to build glow toys with supplies from home. Paper towel tubes could easily hold dozens of sticks, and an old baseball hat can be turned into a glow helmet. Add to the fun by letting the kids construct their craft while waiting for the parade to begin.
If you have three or more kids in your group then you can easily save $70 with this one tip. That is money you can spend on something that will last a lot longer than a cheap battery-operated toy.