First time Disney travelers might be intrigued by the street vendors around Lake Buena Vista and Kissimmee selling used Disney World tickets. The attraction is obvious, save 50% or more off the price of your park tickets by purchasing someone's "leftovers".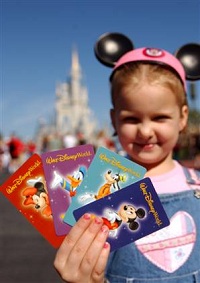 For example, let's say a family purchased a 7-day Magic Your Way ticket and only visited the park 5 days during their stay. Now technically there are 2 unused days still left on the pass. Even if they did not purchase the No Expiration option, the tickets are still valid up to 14 days after their first use.
Sounds like a great way to take advantage of unused tickets – right?
Well it might sound like a good idea when pitched by a fast-talking street salesman, but the truth is that all used Disney tickets are a scam. The only thing you'll get from buying them is a big fat hole in your wallet.
Here is what you need to know…
– For starters, the practice of selling used DW tickets in Florida is illegal, but the market is still very much alive thanks to scammers who try to exploit innocent tourists.
– Disney World tickets work like credit cards. They have a magnetic strip that identifies the purchaser and proper ID must be provided in order to redeem them. If your ID does not match the ticket's information then you will not gain entry to the park.
From the Disney World website:
"Please note that all Magic Your Way Tickets are nontransferable and must be used by the same person on any and all days. The person who uses the ticket for the very first time must use the ticket for its entirety. Any tickets that are transferred are in violation of this restriction and are invalid for admission."
– Only Disney ticket computers can tell whether or not is valid, and how many days are left on the pass.
– The majority of discounted tickets sold on eBay and Craigslist are actually used passes. There is no legitimate way for anyone to offer significant savings on tickets without losing money on the deal. Thus, if it sounds too good to be true then it probably is.
So in short, steer clear of anyone selling used tickets. The absolute safest place to buy your park tickets is directly from Disney World. It simply is not worth risking your vacation to save a few bucks, especially when there are so many other ways to save at Disney World.