It may still feel like summer but Halloween is right around the corner and that means it is time for Mickey's Not-So-Scary Halloween Party at Disney World. For 24 special evenings between September 14 and November 1 the Magic Kingdom will transform into the happiest Halloween spot on the planet.
Update: 2012 Disney World Halloween Guide
If you have never been to Disney World for this event then you really should try to go. The weather is absolutely perfect in Orlando during fall. Yes there is always a chance for a hurricane but typically there is very little rain and the high temperatures are in the low 80's. This makes for bright days to enjoy the park and cooler nights for when the Halloween festivities begin.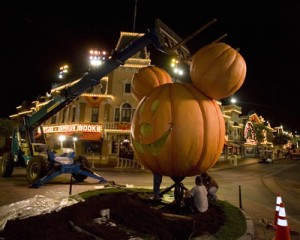 Featured attractions include trick-or-treat throughout the park, mascots wearing special costumes, the Boo-to-You parade, orange and green fireworks, and of course popular destinations like the Haunted Mansion.
A separate ticket is required for admission to Mickey's Not-So-Scary Halloween Party. Tickets cost $59.95 (for ages 10+) and $53.95 (for ages 3-9) for all dates except Oct. 29 and Oct. 31 when tickets cost $64.95 (ages 10+) and $58.95 (ages 3-9). Advance purchase (prior to event day) savings of $6 per ticket are available for the parties on Sept. 14, 18, 21, 23, 25, 28, 30; Oct. 1, 3, 7, 11, 12, 14, 17, 19, 21, 24, 26; and Nov. 1.
There are a couple of current promotions that can save you money during Halloween visit. First, check out the late summer specials. Also consider booking a vacation package with a free dining plan. And if you are only staying for the weekend then get maximum savings by staying at the best Disney World value resort.
Trick or Treat!