The free dining upgrade to Magic Your Way packages is now open to everyone. This special rate was formerly reserved exclusively for Disney Visa card holders.
The promotion launched to the public on March 30th and includes most check-in dates from August 16, 2009 through October 3, 2009. Packages must be purchased by June 21st. Free dining will extend past the October 3rd date, as long as you check in October 3rd or before. As with all Disney promotions, this offer is subject to availability.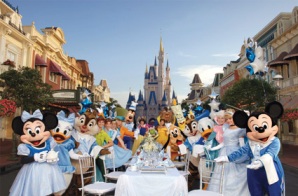 The upgrade gives you a Magic Your Way Plus Dining package for the price of a regular Magic Your Way package. You must purchase a regularly priced Magic Your Way package consisting of at least a 3-night stay at an official Walt Disney World resort hotel, AND a minimum of a 1-day Magic Your Way Base Ticket.
You can also chose to upgrade to the Deluxe Dining Plan for just $32 per adult per night and $10 per child age 3-9 per night. The Deluxe Dining Plan includes three meals a day at your choice of table service or counter service locations. Table service meals include an appetizer on the Deluxe Dining Plan. The Deluxe Dining Plan also includes two snacks per day and one refillable mug for each ticket holder.
Even without the upgrade, a family of four will save just over $100 per day with this promotion. You'll likely save even more however because you won't need to budget as much for your meals during your vacation. The Deluxe Dining Upgrade is a steal at $32 per adult since it covers all of food needs while at the park.
No other discounts can be combined with this offer. Reservations are limited. Please note that gratuity for table service meals are not included.