Disney World has been offering some great deals this year, and it looks like the savings will continue to help tourists who are struggling to book a family vacation in a tight economy.  In addition to the Disney Birthday Promotion, they recently announced 3 free nights when you purchase a standard 4 night package.
Here is how the promotion works:
– Customers must purchase a 4 night / 4 day Magic Your Way package at the regular price.  These vacation packages include accommodations at a Disney Resort and a Magic Your Way Base Ticket that gives each member of your travel party entry to one Disney Theme Park every ticket day.  You can upgrade your package to include things like Park Hopper Passes and Dining options.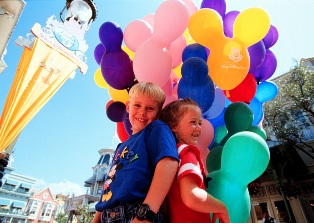 – You must book your vacation by December 20, 2009 and your stay must fall between 11/1/09 – 11/20/09, 12/11/09 – 12/24/09 and 1/3/10 – 3/27/10.  There is a limited amount of discount packages offered for each time, but Disney does not disclose how many are available.
– The base package includes a stay at one of the Disney's value resorts.  If you upgrade to either Disney's Old Key West Resort or Disney's Saratoga Springs Resort & Spa you will also receive a $100 gift card valid at most shops and restaurants within the park.  Rooms in these resorts include amenities like kitchenette with microwave, mini-refrigerator, wet bar and coffee maker.
– Estimated total cost for a family of 2 adults, 1 junior, and 1 child who stay at a value resort is just under $1400.  This includes one theme park ticket per day, hotel accommodations, shuttle transportation to and from the Orlando airport, and transportation throughout the Disney World Resort.  This is an average family cost of $200 per day.
– Food and airline costs are not included, although you can upgrade to the dining package for about $19 per person / per day.
– You must book directly through the Walt Disney World website or reservation line.  The booking code for this offer is IUZ.
So if you assume a $1200 cost for round trip airline tickets, your total comes to $2600 for travel, lodging, and park admissions.  This is definitely a great deal, especially when you compare it our Disney Vacation Budget Example.
If you have been considering a trip to Orlando this summer then now is the time to take advantage of this offer.  You will have to be flexible with your dates depending on availability, but it is worth it in the end.