It is no surprise that the busiest (and most expensive) times to visit Disney World coincide with school vacations. But if you have some flexibility with your schedule then you can save big on room rates by booking your Disney trip after Easter or during the last weeks of summer.
Now through March 27, 2011 Disney World is offering reduced room rates for most nights between April 28 – June 14 and August 14 – October 1. Discount start at 20% off standard rates for Value Resort Hotels all the way up to 40% off Deluxe Villa Resort Hotels.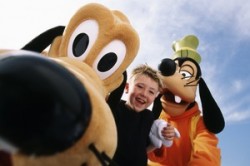 The biggest opportunity for savings comes at the end of August into September. During this time you can find Value Resort rooms for as low as $64 per night. That's about as good a rate as you'll ever see for an on-site hotel room.
We ran a quick price check with the online reservation tool and came up up with these numbers…
5 Day / 4 Night Stay from August 22nd to August 26th
2 Adults and 2 Children (ages 5 and 2)
Preferred room at Disney's Pop Century Resort
5 Day Magic Your Way Ticket
Grand Total of $1,075.22
This does not include airfare costs, but free ground transportation is available to and from the airport. Even with an estimated airfare of $325 per person you are still under $2500 for the trip. Factor in $100 per day in food and you are at about $3000. Overall, not a bad way to enjoy the last days of summer!
Obviously there are other ways to trim costs like finding cheaper travel arrangements, downgrading your park tickets, etc.  Most of these things are just based on preference.  The point here is that the off season is a great time to visit Disney World if you are searching for the cheapest alternative.